This Web site was designed using Web standards.
Learn more about the benefits of standardized design.
Quick Links
Main Navigation
Top Stories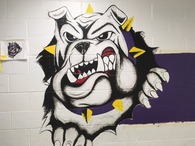 Justina Williams approached Ms. Bumgardner this year about possibly doing a mural somewhere in the school. She presented several sketches to administration and got them approved. Justina immediately got to work. About a week into the process, she asked to bring in someone else that she thought could help her. She recruited Matt Miller. Justina and Matt spent every hour during art as well as many additional hours after school and during . . .
Current Highlights