Working...

Just a Friendly Reminder…

Dear Parents/Guardians:
Every child is expected to participate to the best of their abilities each day during PE. There are days when illness or injury may inhibit your child(ren)'s ability to participate. If so, please send a doctors note with your child(ren) with a brief description regarding the nature of the restrictions.
Also, being concerned about your child's safety and success during PE, I ask that your child(ren) wear the proper footwear (i.e. tennis shoes, running shoes, or sneakers). Shoes with heals, boots or sandals make it difficult for your child(ren) to participate safely. I strongly encourage students to wear socks with their shoes and girls that choose to wear dresses/skirts should wear shorts underneath their clothing! Failure to wear the proper shoes/clothing will result in your child(ren) sitting out of class. No participation in class will result in no daily participation points! I ask that you please remind your child(ren) to lay their gym shoes/clothing out or place them in your child's backpack so they will be ready for PE!
Thank you for your understanding and support! Your cooperation for their safety and active participation is very much appreciated.
-Mr. Scott
Grading in PE
Every student will be graded on the following 3 areas:
Participation

Personal & Social

Skills & Concepts
Grading Rubrics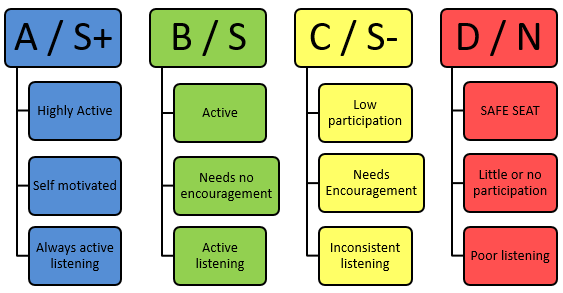 Personal & Social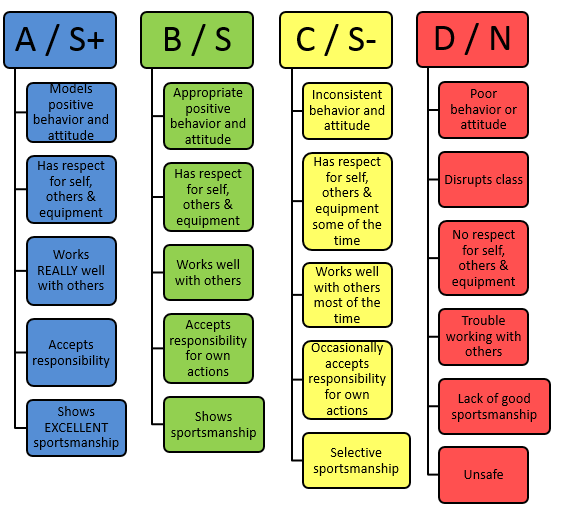 Skills & Concepts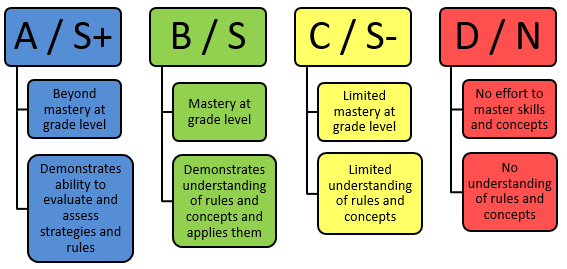 Scale

Knowledge & Performance Rubric

Effort & Attitude Rubric

= 4 points

Exceeding Grade Level

I Did

All You Asked And More

= 3 points

Meeting Grade Level

I Did

What You Asked Of Me

= 2 points

Working Towards Grade Level

There Was

More That I Could Do

= 1 points

Not Meeting Grade Level

I

Did Not Do What Should Be Done
S.T.A.R.S. Program
The five targeted behaviors:
S—Staying on task
T—Trying your best
A—Active listening
R—Respecting self, others, and equipment
S—Sportsmanship