---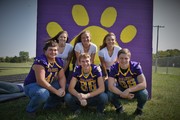 2017 Homecoming Candidates: Front Row: Zach McCowan, Paul Kuglin, & Kasper Aavitsland. Back Row: Jenna Johnston, Ceara Funk, & Paige Arnett.
---
Homecoming 2017 - Pummel the Patriots
Homecoming Week September 25th-29th - This years theme is Pummel the Patriots. The following links provide information about the activities that will be taking place during the week, along with permission slips and T-shirt order forms. If you are interested in being a chaperone at the dance please contact Lorie at pattersonl@mclouth.org or by calling the district office at 913-796-2201.
Homecoming Week Activities Schedule
Homecoming Week September 25th-29th.
Homecoming shirt orders are due on Monday, September 18th by 4:00 p.m.
Powderpuff Football Permission Slip
Permission slips for participation in Buff-n-Tuff and Powderpuff Football are due to class sponsors by 4:00 p.m. on Tuesday, September 26th.